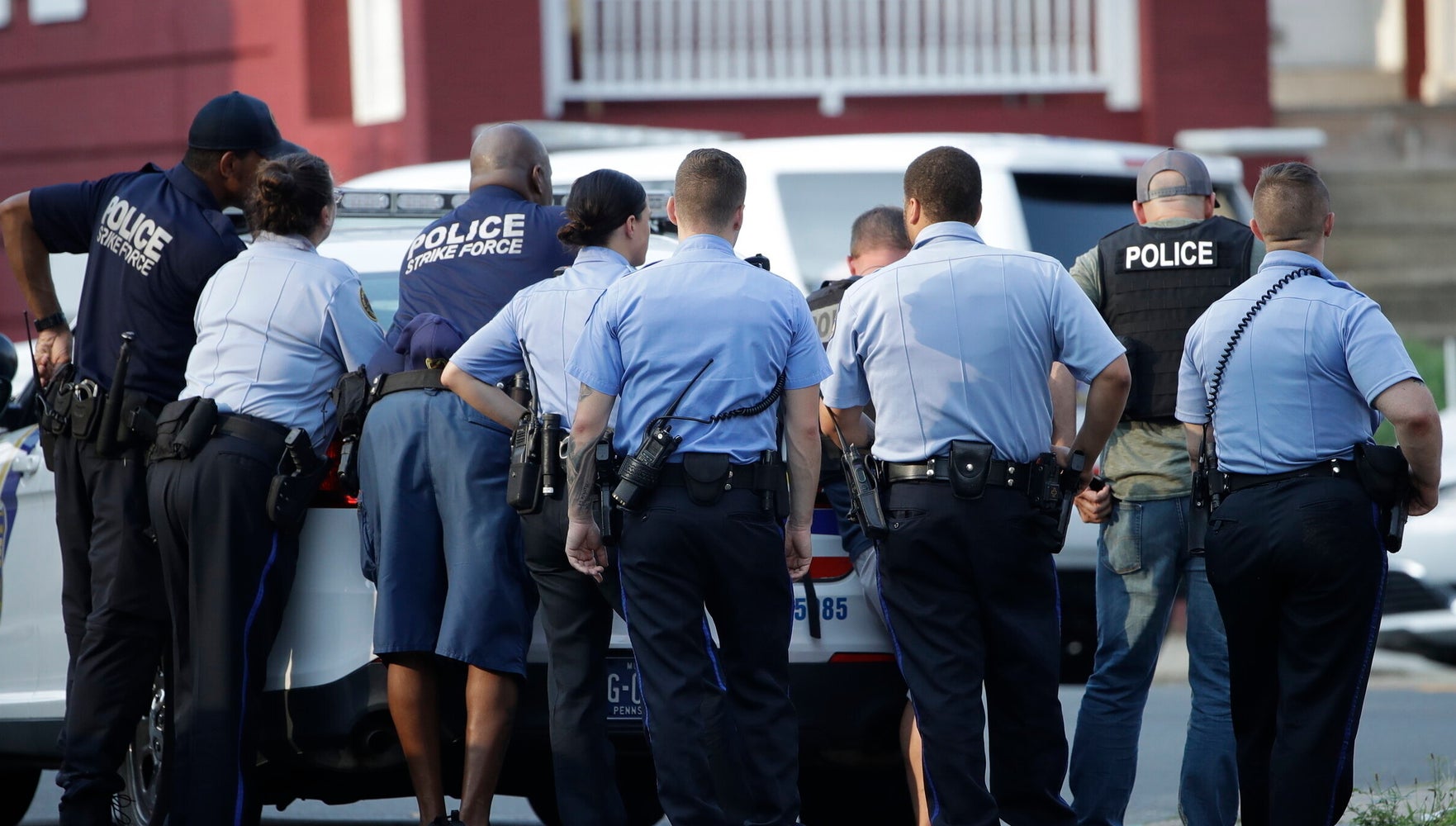 A gunman who injured several police officers in a prolonged shootout in North Philadelphia on Wednesday remained armed and barricaded inside a residential building hours after the incident began.
The Philadelphia Police Department said that six officers were shot in the skirmish and treated at area hospitals. All six were later released.
Al Kuchler, a legal representative of the Philadelphia Fraternal Order of Police, told HuffPost one officer was hurt in a car accident. Other officers were taken to hospitals for injuries that were not gunshot wounds.
Philadelphia Police Commissioner Richard Ross said late Wednesday that it was "nothing short of a miracle that we don't have multiple officers killed today," The Associated Press reported.
Ross added that the confrontation, which had started after 4 p.m., had "gone from a hostage situation to a barricade."
At an earlier news conference, Ross said officers had been trying to coax the assailant "to come out peacefully, but he is refusing to do so."
Police managed to make contact with the gunman and his attorney hours into the standoff, but police spokesman Sgt. Eric Gripp Sgt. Eric Gripp said the shooter was "still armed and inside" the house as of 9:36 p.m.
"I'm a little angry about someone having all that weaponry and all that firepower," Philadelphia Mayor Jim Kenney said at the news conference. "But we'll get to that another day. It's all about the families and the officers right now."
The shooting broke out in the Nicetown-Tioga neighborhood of North Philadelphia, near Temple University. Helicopter footage of the scene showed a large police presence with many officers with their guns drawn.
The Bureau of Alcohol, Tobacco, Firearms and Explosives was on the scene to assist police.
Temple placed its Health Sciences Center Campus on lockdown, which was lifted shortly after 7 p.m.
President Donald Trump has been briefed on the shooting and he's monitoring the situation, according to a White House pool report.
In a statement released Wednesday night as the standoff continued, Pennsylvania Gov. Tom Wolf (D) said he and his wife were "deeply troubled by another mass shooting in our commonwealth."
Wolf offered his thoughts to the injured officers and their families, the police department and first responders.
"Tonight is another reminder of the selfless sacrifice of our law enforcement officers and first responders," the governor said. "We are praying for a peaceful resolution and the full recovery of all those injured. We must remain committed to combatting violence and getting dangerous weapons out of our communities."
REAL LIFE. REAL NEWS. REAL VOICES.
Help us tell more of the stories that matter from voices that too often remain unheard.
Real Estate, and Personal Injury Lawyers. Contact us at: https://westlakelegal.com