Hours after President Trump forcefully doubled down on his explosive call for progressive congresswomen to "go back" to where they came from — and demanded they "apologize" for what he called their anti-American "hate" — four of those Democrats were holding their own closely watched news conference Monday evening on Capitol Hill.
Reps. Alexandria Ocasio-Cortez, Ilhan Omar, Ayanna Pressley, and Rashida Tlaib stood side by side at a podium. Pressley began by referring to Trump as "the occupant of the White House" seeking to "marginalize and silence" the women, but quickly turned her focus to various issues, from gun violence to immigration.
"I encourage the American people and all of us, in this room and beyond, to not take the bait," Pressley said, calling the situation a "disruptive distraction."
"At the end of the day, if we improve the conditions of children in a cage, they are still in a cage," Pressley continued. "This is simply a disruption and a distraction from the callous, chaotic, and corrupt culture of this administration all the way down. We want to get back to the business of the American people, and why we were sent here."
Members of the so-called progressive "squad" have feuded bitterly with top House Democrats in recent days, leading some observers to allege that House Speaker Nancy Pelosi's attacks on the freshmen progressives have emboldened Trump.
But, leading up to Monday evening's news conference, the weight of the party establishment was firmly behind the four members of Congress — united, with all hands on deck, in attacking Trump's comments. Pelosi announced Monday the House would take up a resolution to condemn the president's "xenophobic tweets."
Just minutes before the representatives were set to take the stage, Trump invoked Omar's infamous casual reference to the 9/11 terrorist attacks as an instance in which "some people did something" — and renewed his calls for anti-American individuals to leave the country.
"We will never be a Socialist or Communist Country," Trump wrote. "If you are NOT HAPPY HERE, YOU CAN LEAVE!"
Trump added that some people "HATE our Country," and are "anti-Israel, pro Al-Qaeda, and comment on the 9/11 attack, 'some people did something.'"
The progressive women offered something of a preview of their response over the weekend on social media. Tlaib, D-Mich., tweeted that Trump "needs to be impeached" and called him "a lawless & complete failure of a President."
HOUSE DEM BLASTS 'JUVENILE' OCASIO-CORTEZ, CHIEF OF STAFF: 'IGNORANCE IS BEYOND BELIEF'
Omar, meanwhile, accused Trump of "stoking white nationalism" and added, "As Members of Congress, the only country we swear an oath to is the United States. Which is why we are fighting to protect it from the worst, most corrupt and inept president we have ever seen."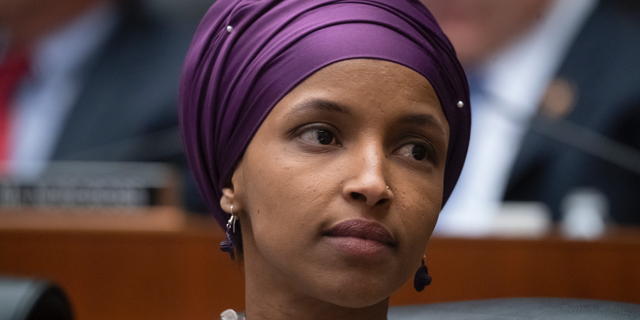 Pressley, D-Mass., wrote: "THIS is what racism looks like. WE are what democracy looks like. And we're not going anywhere. Except back to DC to fight for the families you marginalize and vilify everyday."
Ocasio-Cortez, D-N.Y., penned the most lengthy denunciation of Trump's comments, asserting, "On top of not accepting an America that elected us, you cannot accept that we don't fear you, either. You can't accept that we will call your bluff & offer a positive vision for this country. And that's what makes you seethe."
She added: "Mr. President, the country I 'come from,' & the country we all swear to, is the United States. But given how you've destroyed our border with inhumane camps, all at a benefit to you & the corps who profit off them, you are absolutely right about the corruption laid at your feet."
BERNIE: PELOSI TOO TOUGH ON AOC'S SQUAD, SAYS THEY ARE 'THE FUTURE OF THE DEMOCRATIC PARTY'
Although Trump implied over the weekend they were born elsewhere, three of the four progressive congresswomen were in fact born in the United States. Omar, D-Minn., the first Somali native elected to Congress and one of its first Muslim women, was born in Somalia but spent much of her childhood in a Kenyan refugee camp as civil war tore apart her home country.
Tlaib, the first Palestinian-American woman in Congress, was born in Detroit. Pressley, the first black woman elected to the House from Massachusetts, was born in Cincinnati. Ocasio-Cortez, who is of Puerto Rican descent, was born in the Bronx, N.Y., and raised in suburban Westchester County.
Nevertheless, speaking to reporters outside the White House, Trump denied his tweets were racist and said: "If someone doesn't like our country, if someone doesn't want to be in our country, they should leave."
He continued: "These are people that hate our country. … They hate it, I think, with a passion."
CLICK HERE TO GET THE FOX NEWS APP
Trump additionally claimed that the freshmen lawmakers "hate America" and said that Omar, who has been accused of making anti-Semitic remarks by members of both parties, in particular "hates Jews." The president also warned Democrats against letting them influence their direction: "If they want to gear their wagons against these four people, I think they're going to have a very tough election."
Trump's original tweets had said "Democrat Congresswomen" should go back and fix the "corrupt" and "crime infested places" they came from and then "come back and show us how it's done."
Fox News' Ronn Blitzer contributed to this report.
Real Estate, and Personal Injury Lawyers. Contact us at: https://westlakelegal.com