Council on Foreign Relations member says Tlaib's approval to visit on humanitarian grounds was likely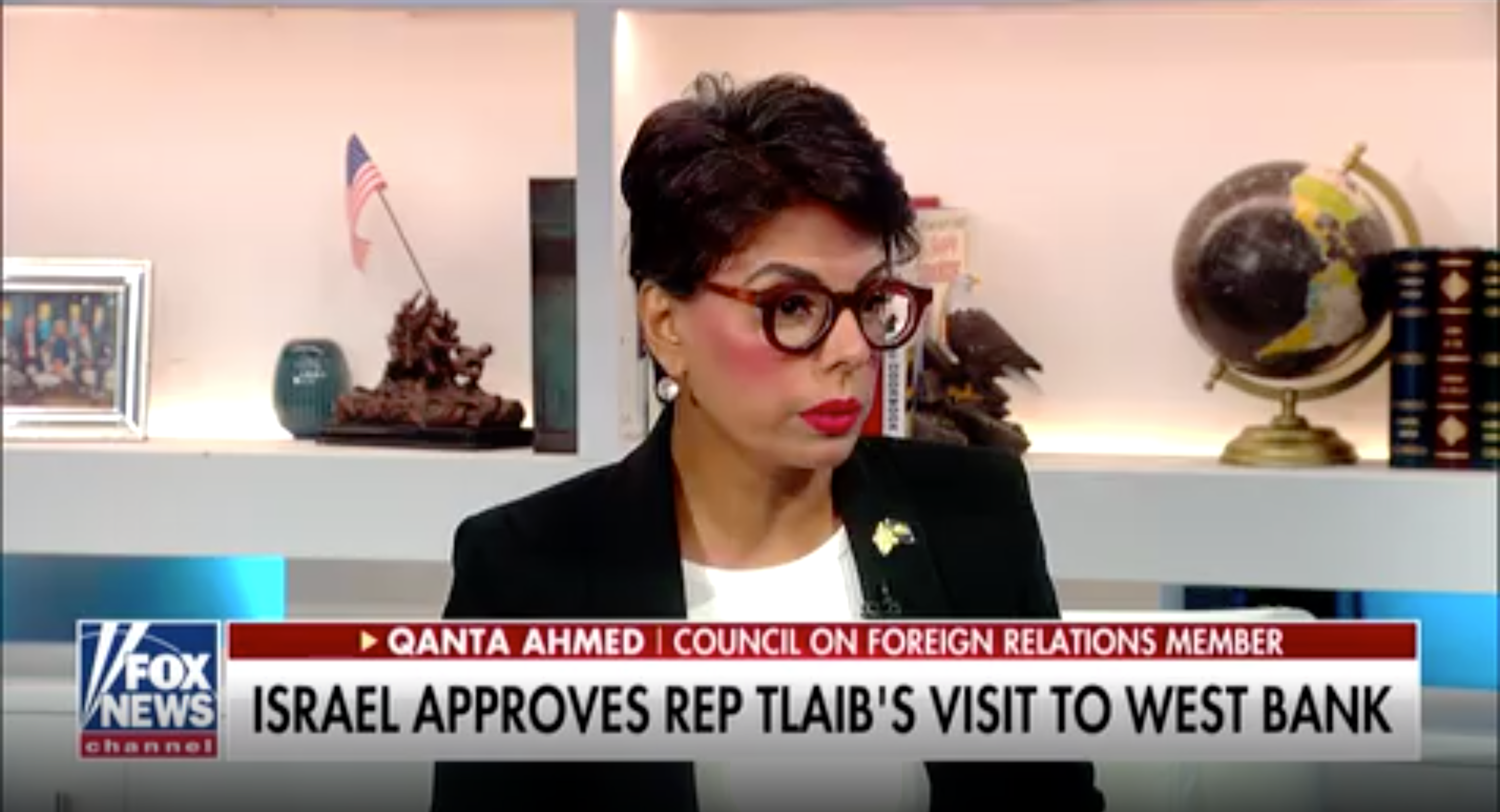 A member of the Council on Foreign Relations said Friday that even though Rep. Rashida Tlaib's, D-Mich., visit on humanitarian grounds was likely to get approved, she is certain Tlaib and fellow House Democrat Ilhan Omar were planning to use the trip to promote an anti-Israel boycott movement.
"This was not unexpected," Dr. Qanta Ahmed told Steve Doocey on "Fox & Friends." "Israel is a legitimate democracy and democracies grapple with difficult decisions all the time. It was very likely that Israel was going to accept her visit into the West Bank on a personal visit on humanitarian grounds and that's exactly what's happening."
Israel's interior minister approved a humanitarian request from Tlaib to visit the West Bank just hours after Prime Minister Benjamin Netanyahu announced, amid pressure from President Trump, that Tlaib and Omar were banned from coming to Israel for their support of an anti-Israel boycott movement.
REP. RASHIDA TLAIB GETS ISRAELI MINISTER'S OK TO ENTER WEST BANK TO VISIT GRANDMOTHER
The Jerusalem Post reported that Tlaib wrote a letter to Interior Minister Aryeh Deri to request permission to visit her Palestinian grandmother, who lives in the West Bank.
Ahmed said Omar and Tlaib's initial agenda was to promote "boycott divestment sanctions ideology."
Ahmed explained that "boycott divestment sanctions masquerades as a boycott for the humanitarian rights or the elevations rights of Palestinian people. But it is actually the delegitimization of the existence of Israel. It is looking for denormalization of international relations with Israel and it is leading to and advocating for the demographic eradication of Israel."
"This is a global movement, 10 to 15 years in duration that seeks to end Israel as we know it," she added.
While Tlaib's request was approved following the initial rejection, Omar was barred from entering the country.
CLICK HERE TO GET THE FOX NEWS APP
As to whether Omar should be allowed in the country, Ahmed responded, "I would be in favor of banning her permanently, even though I recognize the political cost for Israel for doing that. Ilhan Omar not only tweets anti-Semitic material, not only is against anti-BDS legislation, she has fraternized and fundraised and [been] keynote [speaker] for Islamic Relief USA, which is sanctioned by the UAE, by Egypt, by Chunazea, by Sweden for its links to Jihadist terrorism."
"Do we want an elected American official going in any kind of official capacity with those associations?" she said. "We wouldn't permit that here, free speech aside."
Real Estate, and Personal Injury Lawyers. Contact us at: https://westlakelegal.com